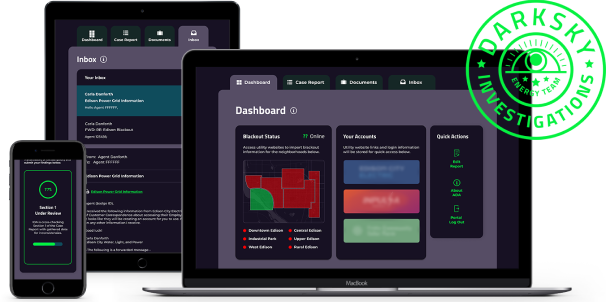 About the Project
DarkSky Investigations is a free-to-play online puzzle game loosely based on real-life power outages to promote learning about electricity and cybersecurity.
Players will investigate within the energy delivery system by:
Analyzing a city's electrical grid via data and simulations
Learning about encryption, decryption, and cybersecurity
Summarizing investigative findings in a 4-step case report
How do I play?
Create a Badge ID to begin! Play in a group (recommended) with family, friends, or classmates, or tackle it alone.
This game can be fully completed online, but a printer, pencil, and pair of scissors may be useful for looking at documents.
What are my objectives?
Define the structure of the city's power grid
Determine which parts of the power grid are offline
Investigate possible causes of the blackout
Recommend steps to restore power & prevent future outages
Version Info

Version 0.7

March 2022

This is our second public beta release.

This version includes all of the puzzles currently planned for the game and is ready for beta testing. Please let us know if you find bugs or have feedback after playing the game!

Note: Safari versions 13 and older are not supported; please use Firefox or Chrome or upgrade Safari to version 14 or later to play this game.
Facilitator Guide
DarkSky Investigations is designed for learning in the classroom and at home. Our team has created a Facilitator Guide for teachers and parents to help reinforce learning objectives.
Please fill out this DarkSky Facilitator Guide Request Form to get access to the Facilitator Guide.
Legal Terms
The events depicted in this activity are not real, though the concepts are loosely based on real events. All photos used in this activity are in the public domain or were originally created.
Privacy Policy & Terms of Use
Visit the University of Illinois Web Privacy Policy.